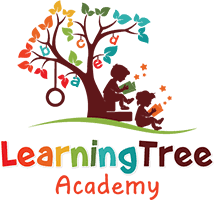 Learning Tree Academy has the distinction of being Lawton Public School's only early childhood center. Teachers and staff are dedicated to fostering the "whole child" to ensure that children are healthy, safe, engaged, supported and learn self-regulation skills.
The first years of a child
A child's first years of formal education are crucial in determining future success as a student and indeed as an adult. Our goal is to make certain that each child has a positive, meaningful, and successful experience. Communication between home and school is an essential component of that success. Please let us know of any concerns or questions. We welcome your involvement.
Learning Through Play
Lawton Public Schools recognizes that young children do not learn in the same manner as older children. Young children learn best through direct encounter with their world. Indeed,"play is child's work". At Learning Tree Academy we will focus on the whole child, to include social, emotional, physical, intellectual, and developmental growth. Our goal is to provide a program with a strong base of experiences that are essential to future learning. Our curriculum is based on the Oklahoma Pre-Kindergarten Standards. Copies are available through the LPS website.
Attendance
Regular attendance and punctuality are important to your child's school success and imperative to receive the maximum benefit of our pre-kindergarten program. Please make every effort to see that your child attends daily and is present for the entire school day.
Parent/ Teacher Communication
On a regular basis the school will send home a newsletter. This will keep you informed as to upcoming events at the school. Teachers will provide specific information about their own classes. Two parent/teacher conferences are scheduled each year, however, you may call and set up a conference with your child's teacher at any time.
Parent Involvement
Any successful school program is dependent on parental involvement. Please feel free to come visit or volunteer. We encourage your participation.
Expectations
We will value one another.
We will not laugh at or make fun of a person's mistakes
We will use good manners.
We will cheer each other to success.
We will help one another.
We will recognize and applaud every effort.
| | |
| --- | --- |
| Advanced Degrees | Staff Number |
| Doctorate | 0 |
| Masters | 8 |
| Bachelors | 20 |
| Nat'l Board Certified | 0 |
| Average Experience | 15 Years |
| Total Certified Staff | 28 |
| Average Class Size | 22 |
Race/Ethnicity

Student Number

American Indian

5

Asian

2

African American

50

Hispanic

43

Caucasian

51

Hawaiian/Pacific Islander

2

Students on IEP

69

Free/Reduced Lunch

111

Other

41

Military Dependents

37

Total Students

(Oct. 1, 2021)

189
| | | |
| --- | --- | --- |
| Full Day Pre-K | Computer Lab | Speech |
| Guidance Lessons | Reading Eggs | SeeSaw |
| iPad for Each Child | Big Day for Pre-K | Autism-Aware Classes |
| Library Time | Music | PE |
| Makerspace | Jump Rope for Heart | LPSF Coin Challenge |
| Title 1 Tutor | Title 1 School | Military Family Life Counselor |